Josh's Benches for Awareness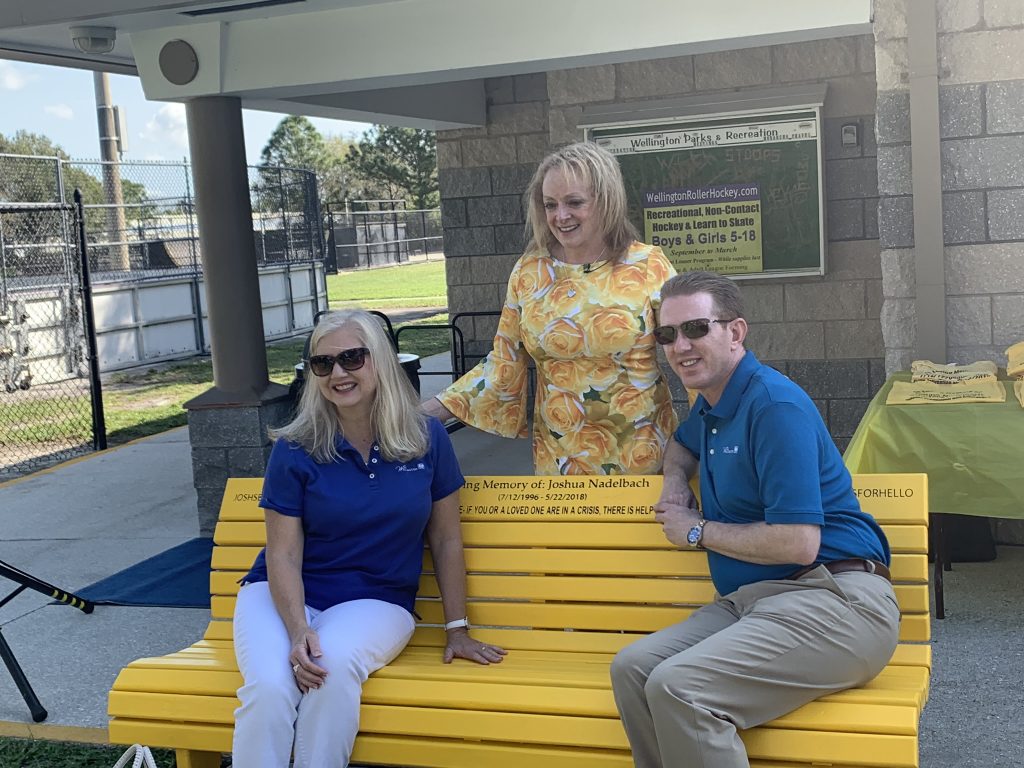 Founded by Cindy Nadelbach and Victor Perez after the passing of Joshua Nadelbach, Josh's Benches for Awareness Corporation aims to bring suicide awareness and prevention to parks, public spaces, and school campuses.
This Wellington based Non Profit business is placing bright yellow Awareness Benches in all sorts of public places so that there can be a physical, and real, symbol for those who suffer with depression or anxiety. Often times, we do not speak about such topics with our family members because of the negative stigma that surrounds those who receive help from psychiatric services. Today, we understand that a large reason for the huge amounts of suicide that occur every day is largely in part to this negative stigma. It is really unfortunate because so many families in our country are affected by this epidemic, and there is currently a person that will take their own life about every 40 seconds that go by. This was a huge thing for this Non Profit, because they have focused their efforts towards reducing that ridiculous rate, one bench at a time.
Josh's Benches for Awareness was recently featured on WPTV for the unveiling of their very first bench in Wellington, FL. Their efforts over the past months have been able to put together a business out of building benches for suicide awareness and prevention. Not only that, but the workers who put these benches together are also part of another non profit business that hires only those who have been displaced from work due to mental illness or mental health issues. Josh's Benches for Awareness is currently using 100% of their funds to benefit the exact people that benefit from the movement that is being created. This is very unique for a business because their partnerships have been able to bring some serious positive changes to the community. Wellington is only their start.
Josh Nadelbach was known by his friends for being caring and compassionate. His family knows that his legacy should be to help those who suffered in silence just like he did. The efforts from this non profit are all dedicated to what josh would have wanted to do for the community.
The current challenge that this non profit is facing is entering into public schools, where they think it would make the biggest benefit. Something that is lacking in the curriculum for public school students is mental health. Which is a huge factor to people growing up with mental health issues. The problem is, so many kids have no idea why they are struggling more so than their peers. If they are not taught how to handle their emotions from a young age, issues can develop over time. Josh's Benches wants school to start teaching kids about mental health, which they believe can also make a difference in the amount of behavioral issues that most schools face. For now, there are just a few benches made, but this non profit wont stop at working towards spreading their message to schools and parks across Florida and beyond.